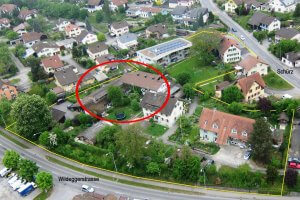 Building Wildeggerstrasse 6 was erected in 1943 as a storage facility for a small construction business. The construction business was shut down at the end of the 1950s. In 1963 four simple apartments were built into the storage facility as row homes. In 1978 two larger row homes were built into the attached garage. The building contains a total of six apartments and a common laundry room with two drying rooms. Due to the original arrangement of the buildings, two apartments are arranged around the corner.
Available housing:
One 3½-room apartment
Two 4-room apartments
Two 5½-room apartments
One 6½-room apartment
Parking: 8 open spaces, 3 visitor spots
Construction standard
The apartments in the east wing do not comply with current standard (sound insulation, sanitary facilities, kitchens). But the apartments are full of charm. They have no basement; each apartment has a basement compartment in the neighbouring main building and an outside, unheated storage room.